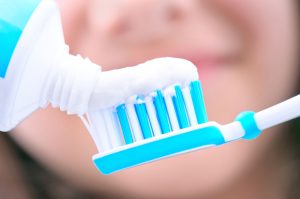 The variety of toothpastes available today can be mind boggling! Do you want tartar control? Extra-whitening? Gel? Paste? Outside of personal preference, does it matter which one you choose?
Let's start by finding out what toothpaste is made of and then consider what the different options available really mean.
Ingredients
There are certain active ingredients that are standard in most toothpastes on the market.
Detergents: Materials like lauryl sulfate cause your toothpaste to suds up when you brush your teeth. These suds help to break down residue that builds up on your teeth on a daily basis.
Abrasive agents: These agents make it so that you don't have to brush your teeth as hard in order to effectively remove food, bacteria and surface stains.
Fluoride: This important ingredient is proven to prevent decay by strengthening your tooth's enamel.
Flavoring: Artificial sweeteners are commonly added to improve the taste of toothpaste. Popular flavors of toothpaste range from cinnamon, mint, bubble gum, baking soda, and many more.
Thickener: Carrageenan, cellulose gum, and xanthan gum are commonly used to create the desired texture of toothpaste.
Other ingredients may include binders, preservatives or dyes to maintain color and texture.
Specialty Toothpastes
There are specialty toothpastes available that are designed to address specific dental concerns such as sensitive teeth, tartar control or whitening.
Sensitive teeth: If you experience sensitivity to things such as hot or cold foods, this toothpaste may be a good fit for your needs. Through the use of certain chemical compounds, these toothpastes help to block pain sensations. The benefits of these toothpastes are typically noticed after a few weeks of use.
Tartar control: When brushing your teeth, you are working to remove plaque. Plaque contains an acid-producing bacteria that damages teeth. If plaque is allowed to harden, it turns into tartar which is more difficult to remove and can lead to gum disease. Tartar control toothpaste is designed to reduce tartar build up by means of zinc citrate and pyrophosphates.
Whitening: Special enzymes or abrasive materials are used to bind with stains and remove them from your teeth. Note that whitening toothpastes are generally effective against surface stains. If you have more serious discoloration issues, professional tooth whitening from your Auburn dentist, Dr. Matson, is a great option!
Which One Should You Choose?
Most importantly, select a toothpaste that is ADA approved (American Dental Association). The ADA seal of acceptance indicates that the toothpaste contains fluoride and has been tested for effectiveness and safety by an independent board of experts.
If you still aren't sure which toothpaste is best for you, feel free to contact our dental team to see what we recommend for your specific needs. Finding a toothpaste you really love will help you keep your teeth looking and feeling their best!
Schedule an Appointment