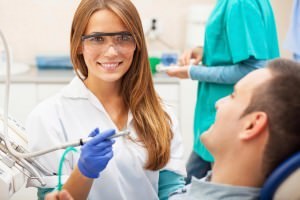 Officially called dental prophylaxis, we are confident you will find our dental hygienists provide the finest dental cleaning in Auburn dentistry.
During your dental cleaning, we clean any built up tartar, the hardened deposits of plaque left by bacterial organisms. Plaque is one of the first causes of gum disease. Professionally removing plaque and tartar on a routine basis is essential for your dental well-being.
Polishing your teeth is the final process in your cleaning. More than just a cosmetic procedure, polishing removes any remaining stains or plaque after cleaning. Polishing leaves your teeth feeling fresh and your mouth exceptionally clean!
As an Auburn family dental office, we happily provide this service for all members of your family, no matter what their age.