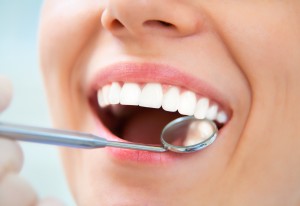 An improved smile can do wonders for your self-confidence. You love the idea of achieving a whiter smile. But a take-home whitening kit? The thought of adding a complicated procedure to your nightly oral hygiene routine is anything but ideal.
So, is there another option available? Yes! Rock Creek Dental is happy to offer an advanced tooth whitening procedure, which we perform right in our office. Since we do all of the work, you won't have to worry if you're doing things right; our procedure will also work faster and protect sensitive gums (and tooth-root surfaces) better than over-the-counter products.
How it Works
Our in-office whitening procedure is performed by our professional staff, and delivers fast and powerful results.
First, we will cover your gums and tooth-root surfaces with a protective barrier. We use a thin, plastic device (known as a retractor) to keep your lips and cheeks away from your teeth as we apply a professional-grade hydrogen peroxide gel. Depending on the particular method recommended, your dentist may activate the whitening element using heat, a special light, or a laser.
After about an hour of wait time, we remove the gel – producing immediately noticeable results.
Advantages of the In-Office Procedure
The primary advantage of our in-office procedure is having a professionally trained and experienced dentist performing every step himself, alleviating any questions like: "Am I doing this right?"
Additionally, an in-office procedure allow for additional protective measures that are simply not available with a take-home kit. For example, your dentist will administer a special gel or rubber shield to over your gums to protect them from the effects of bleaching. A dental professional will also use a much stronger whitening product, containing hydrogen peroxide in concentrations ranging from 15% to 43%, in contrast with take home products that use carbamide peroxide (equivalent to about 3% hydrogen peroxide).
If you're interested in receiving our advanced tooth whitening treatment, call us today and we'll be happy to set up an appointment and discuss further details.