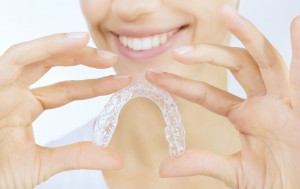 You know the benefits of having a beautiful, white smile. You also know that over the counter tooth whitening kits vary in quality, and aren't adjusted to the individual needs of the patient. You've discussed the situation with your dentist, and now you'd like to consider the benefits of Rock Creek Dental's take-home tooth whitening kit.
With our recommended take-home kit, you play the role of applicator. However, your dentist will provide you with specific instructions and offer support as needed. Additionally, the high-concentration bleaching gels we offer at Rock Creek Dental are not available over-the-counter.
What should you expect with our take-home kit?
Procedure
First, we take an impression of your teeth from which two thin, flexible plastic mouth trays will be custom-made (for your top and bottom teeth). These trays are trimmed to fit perfectly over your teeth and along your gumline, maximizing the effect of the treatment.
Next, you will fill the trays with a professional-strength whitening gel (that we provide), and position the trays over your teeth. The tailored trays keep the bleaching gel on the teeth and off of your gums. Each application takes about an hour, and the process is repeated daily over a period of several weeks.
Better Results
Over-the-counter products won't provide the same results as our take-home tooth whitening kit. Often, patients complain that these products are sloppy, taste horrible, and simply don't provide the benefits they expected.
In contrast, at Rock Creek Dental, we stand by the quality of our take-home tooth whitening kit and are happy to provide specific instructions and support as needed. Contact us today for an appointment and we would be happy to determine if you too would benefit from this popular treatment.