Invisalign for Kids and Teens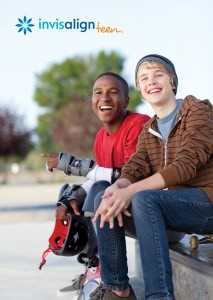 When your parents were young, they only had one possibility for fixing misaligned teeth: braces. That meant wires, metal, bulky attachments and discomfort. Invisalign Teen treatment is orthodontics for the 21st century! Why is Invisalign Teen better in comparison to braces?
Invisalign aligners fit their name as they are invisible. The majority of people won't even notice them! So the only thing that changes about your appearance is that your smile keeps improving.
Unlike braces, Invisalign is detachable! Eat whatever you want, without restrictions. Take photographs or go to special events without braces. Cleaning your teeth is easy, as Invisalign can be removed for brushing your teeth.
Invisalign Teen makes it easy to follow your progress from the "Blue Dot Wear Indicator." A bright dot that you notice when Invisalign Teen is removed shows how close you are to changing to a new aligner. This makes using Invisalign Teen worry free!
What happens if you lose an aligner? First, tell your parents not to be concerned! With Invisalign Teen, the office of Rock Creek Dental can provide up to six free replacement aligners.
That's only four advantages, but believe us when we tell you there are more! If you want a straighter, more beautiful smile, speak with your family and your Auburn dentist, Dr. Matson, at the office of Rock Creek Dental about the advantages of Invisalign Teen. For experiences from other young people who have used Invisalign Teen, read the Invisalign site for actual testimonials about people like you.
Schedule Your Invisalign Consultation