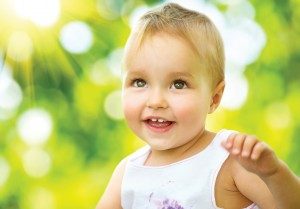 As you have probably already learned from experience, children are very intuitive! If you are nervous when taking them to their first dental appointment, they will pick up on that and will be more likely to feel nervous themselves. Educating yourself about what to expect on that initial visit will help to allay any fears or hesitation. If you are warm and enthusiastic in describing the dentist to your child, you can help build their enthusiasm about seeing "the special doctor" that will help them have healthy teeth.
Letting your child know what to expect at the initial visit will help the process go smoothly. On the initial visit, the dentist will speak to you and your child and will do an oral examination.
Bringing your child's favorite toy and even a healthy snack can be a wise idea in case your child is a bit fussy. If you have multiple children, you might want to make arrangements for a friend or family member watch over them so you are able to give your undivided attention to your child receiving the dental checkup.
If you would like, we can send you any necessary paperwork prior to your child's appointment so that it can be filled out prior to arrival which will save you some time and effort on the day of the appointment.
The Dental Exam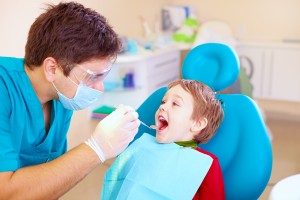 Once your child is in the dental chair, your Rock Creek family dentist will gently examine your child's mouth. During this exam he will be looking for several things: making sure the teeth and jaw are developing accurately, ensuring there are no cavities developing and determining the risk of future dental disease. Performing this exam at a young age will enable us to reduce or reverse early stages of tooth decay without the use of a drill.
Your dentist will provide tips on how to keep your child's oral health in the best shape. These tips will include:
What is involved with recommended treatments such as fluoride
How good oral hygiene and eating habits can prevent tooth decay
Lastly, we will schedule your child's next dental checkup.
Contact Us
Have you scheduled your child's initial dental exam? If not, don't delay! Contact us today and we will get your child on the path to great oral health habits that will last a lifetime.
Schedule a Pediatric Appointment