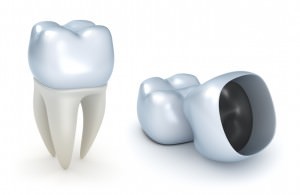 Dental crowns, those durable fixtures that fit over teeth at the gumline, are an effective way to restore the appearance and function of a damaged tooth. In the past, manufacturing a crown was a weeks-long process that traditionally took place in a dental laboratory.
However at Rock Creek Dental, we can make your brand new crown in a matter of minutes—right here in our office.
Benefits of Same Day Crowns
At Rock Creek Dental, we use a high-tech and sophisticated type of Computer-Aided Design/Computer-Aided Manufacturing (CAD/CAM) software known as CEREC to build your crown. CEREC has been used to restore more than 30 million teeth around the world, and hundreds of scientific studies have proven that these restorations are just as successful as traditional crowns.
Benefits of CEREC crowns include:
Only one visit required
Wait of just a few minutes instead of weeks
Quick restoration of broken or damaged tooth means no one will know your tooth has been restored
The CEREC Process
To begin the CEREC crowning process, Dr. Matson first prepares the tooth by removing any decay and using a dental drill to shape the tooth so the crown will fit properly. Next, he will lightly dust the tooth (or teeth) with a special reflective powder.
Dr. Matson then uses a small "scanning wand" to take digital pictures of the inside of your mouth. In just a few seconds, a computer will use those pictures to generate a highly accurate 3D model of your teeth. The CEREC software will then design your new crown, and Dr. Matson will choose the shade of ceramic material that most closely matches your tooth. Finally, the computer-aided-design is transmitted to a milling machine that carves out the crown in just a few minutes.
Dr. Matson will verify the crown's fit, after which he will make any necessary adjustments. Once satisfied, he will permanently bond the crown to your tooth.
With the traditional crowning process, you would need to wear a temporary restoration for a matter of weeks while waiting for your permanent crown to be fabricated at the dental lab. But with our same day crown, the entire process is complete in one visit.
Caring for a Same Day Crown
Make sure to care for your crowned tooth the same as you do for your natural teeth – with a good routine of brushing and flossing. Although same day crowns are strong and durable, you'll want to avoid using a crowned tooth as a tool (e.g., to open packages). A nighttime mouth guard may also prove a wise investment to protect your crown from grinding.
Your same day crown may have been produced in a very short time, but follow these suggestions and it will last for many, many years.