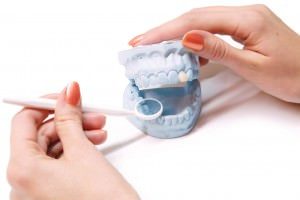 A crown (or cap) is a tooth-shaped cover that fits over a tooth that has been structurally damaged. A crown is used to reconstruct a tooth's shape, size and strength in order to maintain its full function.
Construction of a custom permanent crown can take a bit of time. Therefore, a temporary prefabricated crown (typically made of stainless steel or plastic) may be worn to allow you to use your tooth as normal until your permanent crown is completed.
How Long Can I Wear a Temporary Crown?
Temporary crowns are typically worn up to 2-3 weeks. In some rare instances, your dentist may have you wear a temporary crown for up to a year. This is only done when a permanent crown requires an intricate lab procedure or if other orthodontic or dental procedures are needed prior to placement.
How to Maintain a Temporary Crown
Temporary cement is used by your dentist to secure your crown. Following these simple steps will help to ensure the stability of your crown:
Refrain from chewing especially hard foods such as ice or raw vegetables with your crown.
Avoid chewy or sticky foods like gum or candy.
Attempt to shift most of your chewing to the side of your mouth without the crown.
Adjust your flossing style by sliding the floss out rather than pulling up when flossing around your temporary crown.
These steps can help prevent your temporary crown from dislodging or breaking.
When your permanent crown is ready, your Auburn dentist, Dr. Matson, will remove your temporary crown and replace it with your newly customized permanent crown. Once your permanent crown is placed, you will be able to return to your normal daily eating habits.