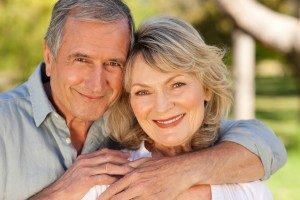 Implant-supported dental bridges are used to span the gap left by one or more missing teeth. They do this by using dental implants as an anchor (verses typical bridges which are anchored to your natural teeth with dental crowns).
Why Use Implant Supported Bridges?
What might lead your Auburn dentist to recommend an implant-supported bridge? Here are just two reasons:
If you are missing multiple teeth, an implant supported bridge will provide more support and be more secure than a normal bridge.
If you clench or grind your teeth, a regular bridge will not be able to withstand the pressure and will fail in time. In contrast, an implant supported bridge distributes the pressure evenly making it more durable.
The Procedure
The first step is a comprehensive exam and review of your x-rays, medical and dental history. In some instances, your dentist may determine that a computed tomography (CT) scan is needed to find the exact location of your sinuses and nerves. If your dentist finds that you do not have enough bone to support a dental implant, he may recommend a bone graft or other appropriate procedure.
If it is determined that you are a candidate for implant bridges, your dentist will proceed to schedule two separate surgeries.
During the first surgery implants will be placed into your jawbone. In the course of the healing process (3-6 months) your bone will actually fuse to the installed implants. When it is determined that fusion has occurred, your second surgery will be scheduled.
The second surgery prepares your gums for accepting the new bridge. Once you have fully healed from this second surgery, you will receive a temporary bridge which will be worn for 4-8 weeks. This time will allow your dentist to make needed adjustments to the framework of your bridge to maximize comfort and use.
Once your dentist has determined the fit is exactly right, you will receive your permanent bridge.
Is an Implant Bridge For You?
We feel confident you will find your implant-supported bridge to feel more secure and comfortable than you would a normal bridge. Let your Auburn dentist examine your dental needs to determine if an implant-supported bridge is the right choice for you.