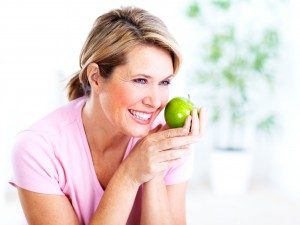 Losing all of one's teeth can be a very a difficult and traumatic experience. Fortunately, dentures provide a functional and very natural looking alternative to maintain and even improve your quality of life.
Why choose implant dentures over regular dentures? Traditional dentures rest directly on your gums and can slip or shift while you perform normal daily activities (eating, talking, etc). In contrast, implant-supported dentures are attached to titanium implants that have been surgically placed and then fused to your jawbone. The additional support of implants makes our Auburn clients feel more comfortable, secure and confident while wearing dentures.
The Procedure
The first step is for your dentist to perform a comprehensive exam. During this exam he will review your medical and dental history as well as your x-rays. In some instances, he may deem it necessary to conduct a CT (computed tomography) scan to determine the exact location of your sinuses and nerves. If he finds there is not enough bone to accurately support your dental implant, he may recommend a bone graft or other appropriate option.
If your dentist determines that implant dentures are the right fit for you, he will schedule two separate surgeries.
The first surgery consists of placing implants into your jawbone. During the following 3-6 months, the installed implants will fuse with your bone. You will be able to use a temporary denture during this healing process.
When the implants have fused with your jawbone, the second surgery will be performed where your gums will prepared to accept a permanent denture.
Approximately 2 weeks after your second surgery, your dentist will put abutments on the head of your implants to which your new denture will attach. A working model of your new dentures will be created off of a mold that is taken of your gum tissue and the installed abutments. From that working model, the framework for your permanent denture and artificial teeth will be made.
What to Expect
As with all dental work, implant-supported dentures will take a little time to get accustomed to. You will love the comfort that comes from being able to eat most of the same foods you ate when you had all of your natural teeth. (You will still want to avoid foods that are especially sticky or hard.)
Are implant-supported dentures the right choice for you? Make an appointment today with your Auburn dentist to discover the best option for your dental health and lifestyle.