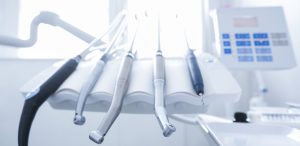 It's a simple truth that if a tooth has decayed, a filling needs to be placed to prevent further damage. Most patients are happy to know just that much and let us take it from there. If, however, you have a more inquisitive mind and wish to know more details about the filling process, we are happy to provide answers.
What many people fear most is the sound of the dental drill. But really, this amazing little tool does wonderful things – it prevents tooth loss by removing decay and fighting infection. For our valued patients, the sound of the dental drill is really the sound of dental care preserving your beautiful smile.
How Do We Make Fillings?
To prepare your tooth for a filling, a small high-speed drill, or dental handpiece, is utilized. The sound you hear with a dental handpiece is it making 400,000 rotations per minute. This makes it a very powerful tiny tool.
As your Auburn dentist, Dr. Matson, removes the decay in your tooth with the dental handpiece, he will remove just a bit more than the decayed area to ensure every bit of decay is eradicated. This removal also shapes your tooth by smoothing out the enamel's surface, thereby prepping the tooth for the filling to properly adhere.
Once your tooth is fully prepped, cleaned and dried, it is ready for the filling. You will feel a bit of pressure on your tooth as the dentist ensures that the filling material completely fills the newly created hole. This helps to ensure that decay can no longer make it into this part of your tooth. If a composite resin is used to fill your tooth, a dental curing light will be used to set the material. Next, your dentist will buff the tooth with the dental handpiece to leave your tooth feeling clean and smooth.
Your dentist will now check your bite to make sure things feel "just right" to you. Our goal is to ensure that you leave with the perfect bite and a tooth that will serve you well for many decades to come! Do you have more questions on the filling process? Contact us today and talk to our knowledgeable team or to schedule an appointment with your Auburn dentist, Dr. Matson.